The Group: Danielle, Chris, and Nate.
Here's one of our sample designs — this shows a difference between two of the practicum datasets: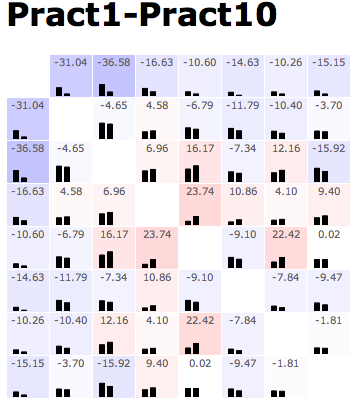 The pattern of this design is generally to show the data in a matrix layout. At the top of every cell, there's the value of some comparison metric. At the bottom of the cell, the raw data (or something roughly equivalent) is shown — albeit in a low-res format. In this example, color redundantly encodes the main metric in a heatmap; with more complex comparison metrics, that need not be the case. Additionally, when the comparison metric has some sense of whether this comparison passed some statistical threshold, it can only color those cells that do.
Mouseover (or some other cell selection mechanism) can display additional information about the comparison in question — data values, diagnostic information on the residuals, and such.